Band's story
2001-2002 : "UNREALITY"
New songs come out while the band keep doing other live shows, and the band also start to contacts the record labels (Underground symphony and Megahard). On January 2001 band signs with Megahard Records (a one cd deal, 2nd cd optional) and starts to work on the new songs stopping the live shows.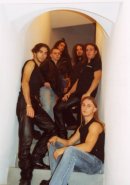 On October-November 2001 the recordings of debut cd "Unreality" come to an end. The cd was recorded,mixed and mastered at the famous Zenith Studios by Frank Andiver. Album is out in South America, Japan, Europe in April 2002 under "Prw" distribution, in Italy on November 2002 distribuited by "Self". On February 2002 the band record a Sword cover for the Sword tribute cd, produced by Rising Works and Underground Symphony. On October 2002 the split with the singer Federico Puleri. The band finds in Cesare Capaccioni the new singer. On the first months in 2003 band starts a mini-tour for the promotion of the cd: 7 shows and the "L'urlo del drago" Festival in Trento, where they are co-headliners.