Band's story
1999-2000 THE BIRTH : "DEMO 1999" and "DEMO 2000"
The band was formed in Firenze on March 1999 by ex-members of italian Bon Jovi cover band and a new drummer, Paolo Baroni; few months later Max Carrai

joins the band as singer and the band start doing live sessions, after the recordings of the very first demo (only cover songs). The band plays live shows in Florence and Tuscany, playing Helloween, Gamma Ray, Stratovarius, Labyrinth, Malmsteen, Iron Maiden, Manowar covers. Beside to the live side, the band starts composing its first own tracks. During August 2000, after a friendly split with Max, the band finds another singer, Federico Puleri, and so the line up is soon ready with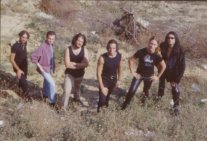 Fabrizio Marnica as keyboard player. On the same month the band records "Demo 2000" and starts new live shows with the new line-up.